Women watches - the best brands
Categories: Watches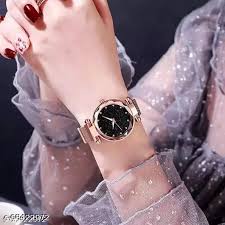 Every lady needs a fashionable watch, both as a functional timepiece and as a decorative item. You should know that women like multiple brands, including ones for work, play, and casual attire. You can get a wonderful gift for that particular someone this holiday season with these top watch brands from the most well-known designers.
Watches have a rich history that extends back to the 15th century. Originally only time-telling instruments, they have developed into the incredibly adaptable fashion accessory we use today. It has come a long way since guys were the only ones who used it predominately. Today, watches are an essential component of women's fashion attire as well. Its holdings are comparable in size to those devoted to men.
Fossil
Fossil watches unquestionably shine with innovation and antique classic design. The company has produced some of the most trendy watches for ladies since its founding in 1984.Each watch in the Fossil range is unquestionably exceptional. For instance, a gold-toned bracelet-style watch with embellishments like a stone-studded bezel and strap helps you put together an elegant look.
Diesel
Diesel enjoys incorporating striking, futuristic designs into its women's watches. They create a lot of fantasy sports and casual timepieces in addition to a trendy and youthful division for young adults.
Giordano
Here are some timeless Giordano timepieces that can help you exude serious fashion. Simply put, people adore these timepieces for their sophisticated looks.There are many unique designs of Giordano watches available for women. These range from watches with broad leather straps to those with attractive metallic bands, from those with huge dials to those with stunning stone adornments.Giordano International is a Hong Kong-based international retailer of clothing and accessories for men, women, and children. It was founded in 1981.
Michael Kors
American clothing and accessory company Michael Kors has been in business for thirty years. The company Fossil, known for its classic, crystal-encrusted designs, produces Michael Kors timepieces. If this brand piqued your interest, don't forget to go through Lifestyle's selection of analog watches for women.
Chanel
Chanel, a French company, began operations in 1910. The business is in charge of completely changing how people perceive modern women. It follows that they have an important place in the history of fashion.Aside from its recognizable emblem, its timepieces share the same level of refinement and elegance as their clothing, purses, and fragrances. It's the ideal synthesis of historical silhouettes and contemporary fashion. The J12, Monsieur, and Electro Capsule collections are among the collections that they have their timepieces arranged by.
Daniel klein
Daniel Klein's chic line features something for every woman with its limitless color combinations and sophisticated shapes.Daniel Klein first opened its doors in 1973, and today it serves customers in more than 80 nations under the slogan "Fashion for Everyone." Daniel Klein grabs everyone's attention with his Exclusive, Premium, DKLN, Smart Watch, D-Kids, D-Two, and Trendy line. The collection undoubtedly delivers premium clubbed that seem light in weight.
Rolex
Here is a company that combines fashion with durability and technical accuracy. The renowned Swiss luxury watchmaker Rolex sells timepieces in a range of metals and finishes. A large selection of traditional and expert watch models from this luxury brand is unbeatable.
Titan
The most well-known Indian brand in the world because to its goods is Titan. Particularly when it comes to several strap options, their timepieces are distinctive and adaptable. On Lifestyle, you may choose from a variety of strap alternatives, including bracelet straps, ceramic straps, and decorated straps.
Tiffany
Tiffany & Co. has been the top jeweler in the world and America's design powerhouse since 1837. And the movements and other components used in their collection of luxury timepieces are flawlessly crafted in Switzerland. These quartz and automated timepieces revolutionized horology.
Bottom line
Make sure to take proper care of your wristwatch, regardless of the watch brand you choose to wear. Regular maintenance and affection go into it. It is similar to jewelry but serves a greater purpose. We really hope that you chose a brand from our list of the top watch companies for women. If not, you can at least think of yourself as a novice watch expert.